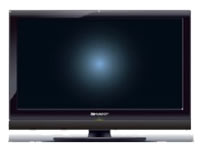 Whether its for a bedroom or kitchen the 19 inch is the most popular size for people looking for a small TV and all of the major brands have LCD models in this size. A 19 inch LCD can cost between £150 and £300 with some models also including a DVD player.
Recently Channel Five's Gadget show  did a review of 19 LCD TVs with the Sharp LC19SH7E coming out top of the 3 they reviewed with good picture quality, decent sound and rich colours. The Sharp was also the cheaper of the 3 making it overall their favourite bedroom TV.
The two other LCDs in the test where the Panasonic TX-L19X10B 19-inch Widescreen HD Ready LCD TV with Freeview available in either black (TX-L19X10B) or white (TX-L19X10BW) and the Sony KDL-19L4000 19. The LC19SH7E is available for under £200 at a few online stores including Amazon.
Meanwhile the Panasonic TX-L19X10 is widely available at quite a number of outlets and slightly cheaper than the price quoted on the TV show TX-L19X10 Prices. The Sony KDL-19L4000 is also available KDL-19L4000 Compare Prices
Other models to look out for are:
Most of the above have similar specifications with a HD resolution of 1366 x 768 pixels and 1 HDMI connector although the sony has a a higher 1680 x 1050 resolution and 2 HDMI inputs.