LG 42LX6900 3D LED TV with Freeview HD, 200Hz
It didn't take long for the rest of the big players to play catch up in the three dimensional race. Panasonic, Sony and LG have all now put their finest on display for us to compare the best 3D TV releases for 2010. Here we are looking at the latest edge LED from LG the impressive 42 inch 42LX6900. Save £233 on today's special offer price at 1stAudioVisual and get free delivery.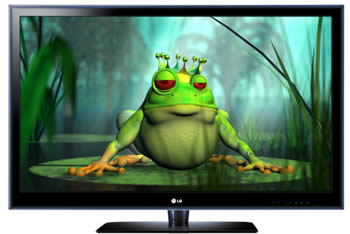 LG 42LX6900 3D LED TV
42LX6900 Edge LED
The LG 42LX6900 stands out from the crowd as a thing of beauty. Its ultra slim profile is down to the tiny LED lights around the edge of the screen. In addition its impressive spec gives you 200Hz TruMotion for superb picture quality, a built-in Freeview HD tuner and LG's Netcast online service.
You'll find ample support for media streaming and a true high definition multi media experience thanks to 4 HDMI inputs. You'll have plenty of connectors for a games console, home cinema, blu-ray player or satellite box. This model is 3D active and comes with one pair of 3D spec.
LED TVs like LG LX6 series produce a sharper more detailed image with superior contrast as well as a super slim frame. This 3D ready model is made for hanging on the wall and will look stunning even before you switch it on. LED TVs are also more energy efficient saving you 40% of power consumption compared to LCD TVs.
42LX6900 Key Features
Full HD 1080p
200Hz Processing
24p Cinema Vision
LED 3DTV (Active)
Freeview HD
NetCast
4 HDMI INPUTS
USB 2.0
DLNA
8,000,000:1 Contrast Ratio
TruMotion
Get ready to enjoy more 3D football, movies from 3D Blu-rays, 3D video games and future broadcasts from Sky. Best of all save money on monthly subscriptions and watch High Definition TV for free with the built-in Freeview HD tuner.
LX6900 is available in 42/47 inch sizes: