40 inch TVs under £500
2011 will see the latest TVs all ready and waiting to hit the stores from the likes of Sony, Panasonic, Toshiba, Samsung and LG. However it's at this time when some of the best bargains can be found on last years top selling LCD and Plasma TVs.  Below you can find a number of worthy 40 inch TVs under £500.
40 inch LED TVs under £500
LCD without LED can save you money but if you fancy an ultra slim 40 inch that combines sexy styling with breathtaking pictures then LED TVs are the way to go. They don't usually come cheap but we did come across two great value LED TVs at just under £500. Philips 40PFL5605H – 100Hz, 3 HDMIs, Easylink, USB Media Playback, LED Backlit and Samsung UE40C5100 – Freeview, Wireless content viewing, 4 HDMIs, Ultra Clear Panel
40273SMFHDLED 40" Smart WiFi Ready Full HD 1080p LED TV with Freeview in Black
by Digihome
Amazon
Price: £249.00
Visit Store
---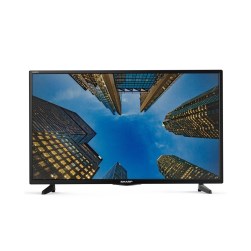 Sharp LC-40FG5341K 40 1080p Full HD LED Smart TV with Freeview HD
by Sharp
Appliances Direct
Price: £287.97
Visit Store
---
40 inch Full HD LCD TVs under £500
We picked out a few cheap 40" TVs from Samsung, Sony and Toshiba that today come in less than £500 with some under £400! The Samsung LE40C580 jumps out having a Freeview HD tuner and plenty of positive customer reviews on Amazon.
Samsung LE40C580 – Freeview HD, Anynet+, 4HDMIs, Connect Share Movie via USB
Samsung LE40C530 – Freeview, PC input, 3 HDMI, Anynet+one touch controls
Samsung LE40C550 – Freeview, PC input, 3 HDMI, 24p Cinema Vision
40 inch Full HD LCD TVs under £500
At this price point there is bound to be some compromise made with connectivity, DLNA PC or online access. There may not be an Ethernet port, TVs will have 3 rather than 4 HDMIs etc but the big TV names have worked wonders bringing you a great picture for the money. So if you can live with limited connection and are more interested in the picture quality without the frills there's some great budget TV out there.
Sony KDL-40EX401 – Freeview, 4 HDMI, USB Media Player, Bravia Sync, Easy set up
Sony KDL-40EX402 – Freeview, 4 HDMI, USB Media Player. Bravia Engine 2,
Toshiba have plenty of wallet friendly models but their RV series gives you plenty of features at a generous price. The 40RV753B has DLNA streaming, a built-in Freeview HD tuner and the company's own MetaBrain system and Resolution+ for clean sharp images.
Toshiba 40RV753B – Freeview, Wi-Fi Ready, 4 HDMIs, 2 x USB, DLNA
Toshiba 40LV713B – Freeview, PC input, Active Vision, 3 HDMI connections
Plasma TVs
You can't beat watching movies on a big screen that's why manufacturers are churning our more than ever. 40 inch and 42 inch screen sizes are fast becoming the number one choice for the average living room. Its large enough to deliver cinema like action without dominating the place. LG and Panasonic favour 42" screens instead of 40" and we also found some entry level 42 inch plasma TVs under £500.
42 inch Plasma TVs under £500
42" JVC LT-42C550 LED TV, Silver
Currys
Price: £269.00
LG 42LF580V 400 Hz TV
Amazon
Price: £373.74
LG 42LF652V TV
Amazon
Price: £464.66
Upgrading to a larger screen is another option with 3D, LED, LCD and Plasma TVs coming down in price and newer 2011 TVs offering more for your money.