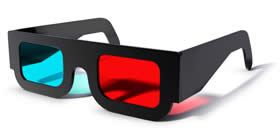 3D TV Health Warning
Well just when you've decided on what 3DTV to buy along comes a health warning from the most unlikely source- Samsung! The world's biggest electronics company has issued the warning on their own website alerting people to the possible dangers using the 3D TV function.
The original 3d tv warning which now seems to have been toned down alerts the public that pregnant women, the elderly, children and those with epilepsy or a family history of epilepsy and strokes are more likely to be at risk.
The South Korean giant could be covering their tracks in anticipation of any legal claims should anyone fall ill due to watching a Samsung 3D TV.
Samsung could be shooting themselves in the foot with claims of side effects such as dizziness, fits, confusion, nausea, altered vision and light-headedness. With the launch of 3DTVs imminent for both Samsung and Sony this could affect sales dramatically.
However, it looks like Samsung are reviewing their warning so as not to cause undue alarm. Sony and other leading manufacturers claim to have commissioned independent research and had found 3D viewing safe with no health risks.
Many people buying a 3D TV have already experienced the new exciting immersive experience at cinemas and pubs around the country. Some people had felt dizzy after watching the film Avatar in 3D but others were OK. It will be interesting to see how this pans out and whether it will go the same way as the mobile phones scare did not so long ago.
3D TV is set to transform the way we watch TV and movies at home and buying a TV with 3D capabilities is exciting stuff. The best part of all this is you can still buy a fantastic 2010 3D model crammed full of high end features and choose when you want to view in 3D. Watching in 3D isn't going to be compulsory but it's a great option to have especially for watching great movies and football.
You may decide to hold on until the jury is out on this one and buy a decent 2D model instead. It's worth bearing in mind though that you can't upgrade to 3D at a later date unless the TV you buy is 3D compatible. Advice being dished out from the TV wise guys is if you are ready for a new TV then 3D has to be considered even though you may not want to use it just yet.
New 3D TVs ready to watch with or without the 3D effect
Samsung 40 inch UE40C7000 5 star award from What HiFi Sound & Vision
Sony 60 inch KDL-60LX903 flagship Signature model with Full HD 3D capabilities
Sony 52 inch KDL-52HX903 3D enabled 200Hz model