LG 37LH7000 37" Full HD LCD on Sale less than £500
It's not often you're given the whole package when looking for a bargain buy 37 inch LCD. You are in luck with this high performing Full HD 100Hz TV from LG that's on sale at a great price. We came across the LG 37LH7000 priced well under £500 at Amazon. Better still delivery is free at 1studiovisual.co.uk and if you buy a standard 2 year extended warranty in July at £99 they will upgrade it to 5 years free of charge.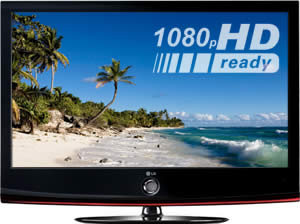 LG 37LH7000 Full HD LCD
100Hz TruMotion Produces Strikingly Fluid & Sharp Images
Thanks to LG's most recent 100Hz TruMotion processing system you can say to goodbye to judder and blur. With motion handling taken care of you can sit back and enjoy the next round on the sporting agenda. Film fans will also appreciate the spectacular pictures, vivid colours and inky blacks for a cinematic experience at home.
Wireless Slideshow with Bluetooth Connectivity
The impressive suite of connections include four HDMIs, a PC jack, and a USB port able to handle JPEGs, MP3s and DivX HD video. In addition there is wireless action to be had with Bluetooth technology. Entertain your friends and show off your high tech TV with an impromptu slideshow.
Check out all those photos you've taken on your mobile phone or camera and display them on the big screen. Alternatively take it easy listening to the TV's audio via a Bluetooth set of wireless headphones. You'll find the 37LH7000 certainly gives you your money's worth in the way of entertainment.
LG 37LH7000 Key Features
37 inch Full HD LCD TV
HD Ready 1080p (1920 x 1080) Resolution
Dynamic Contrast Ratio of 100,000:1
Freeview – Subscription free viewing
24p Real Cinema
Intelligent Sensor finds the ideal brightness
Eye Care (Anti Dazzling)
TruMotion 100Hz
SRS TruSurround
4 HDMI,
USB 2.0 (JPEG/MP3/DIvX HD Playback)
BlueTooth, 2x Scart, PC input
Reviews of the LG LH7000 series hi-light its gorgeous looks, wafer thin design and Bluetooth capability. Just like the popular Scarlet series a touch of red around the transparent bottom edging and high gloss frame adds a stylish finish. Sitting neatly on a round swivel stand the 37" gives you the max in pixels with full HD enjoyed at all angles.
Other sizes are available in the LH7000 series. Today's price for the 37 inch Full HD is a real bargain and very cheap when you compare with the 32 inch 32LH7000.
LG 32LH7000
LG 37LH7000
LG 42LH7000
LG 47LH7000