Smart TV Cash Back Deals
THIS CASH BACK OFFER IS NOW EXPIRED
This year's Christmas cash-back offer from Sony gives you up to £150 back on selected Smart TVs. There's also £50 cashback on digital television recorders too This offer is available from 13th October to the 24th December 2011. Many online retailers are honoring the Smart Offers promotion including Amazon, John Lewis and Marks and Spencer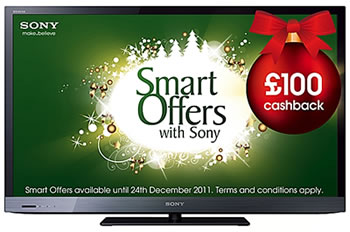 TOP TV DEALS AT JOHN LEWIS
Sony 3D TVs
If you're looking for a 3D experience and the latest high tech wizardry the 40 inch KDL-40EX723 comes in at a great price plus a £100 cashback. This offer is available through authorised sony dealers like M&S where you also get free delivery, installation and a 5 year guarantee. You can look forward to an amazing picture along with plenty of functions and web content at your fingertips. Plus Sony's Motionflow picture processing does a great job with fast moving scenes.
Features Sony KDL-40EX723
HD 1080p 3D 40" TV
Ultra slim design
Back-lit LED display
Freeview HD Tuner
4 HDMI, 2 USB
100Hz
KDL55EX723 Get £150 Cashback
For those that are not afraid to go big the 55 inch in the EX723 series can save you a whole lot more. There's some fantastic savings to made on this model on top of the £150 cashback offer. Compare the price for the KDL55EX723 and see how much you can save today. What Hi-Fi Sound and Vision reviews rated this LCD 3D highly for its detailed HD picture, lovely colours and great Blu-ray motion.
SAVE £50 on the following Sony 32 and 37 inch TVs:
KDL32CX520BU, KDL32CX523BU, KDL32EX523BU, KDL32EX524BU, KDL32EX723BU, KDL32EX724BU, KDL37EX524BU, KDL37EX723BU
Save £100 on these Sony 40 inch TVs
KDL40CX520BU, KDL40CX523BU, KDL40EX523BU , KDL40EX524BU, KDL40EX723BU,
KDL40EX724BU, KDL40NX723BU, KDL40HX723BU
Save £150 on these Sony 46 and 55 inch models
KDL46EX524BU, KDL46EX723BU, KDL46EX724BU, KDL46HX823BU, KDL55EX723BU,
KDL55HX823BU
Download the necessary claim form and read more about Sony's cashback offer here. Now EXPIRED